Trumpy Yachts
Vintageyachtingclub.com
I'm new to the world of wooden boat building, so when I started in the office at Rockport Marine I set my sights on knowing the ins and outs of the boats that we are working on. I wanted to figure out what makes them special and be able to answer questions at the drop of a hat.
I decided to start with the EAGLE a Trumpy yacht constructed in the early 60's and once known as MON AMIE. The Trumpy came to us for repair because the plank seams had been rotted away and needed a half dozen floor timbers repaired. Jeff Morse, Project Manager, proceeded to have his crew remove the rotted areas and fill in the seams with Mahogany splines, which are small strips of wood that are inserted into notches in the center of a joint between two larger pieces of wood. The splines serve to stiffen the joint by preventing motion across the joint. After this was completed they began to fair the hull and paint which is still in progress now.
EAGLE is from a long line of distinguished motor yachts.
EAGLE



Named after the famous designer who crafted these regal vessels, John Trumpy Sr., Trumpy boats have become legendary for their display of affluence, craftsmanship, and beautiful design.
Throughout the 1920's and 1930's, Trumpy boats were the pinnacle of yachting if you were wealthy enough to own one and desired pure luxury upon the water. The ownership logs of these vessels contain famous names such as Guggenheim, Dodge, Chrysler, Morgan and DuPont. Even the presidential yacht the USS Sequoia was designed by Trumpy, and welcomed every United States President aboard her deck from Herbert Hoover to Jimmy Carter.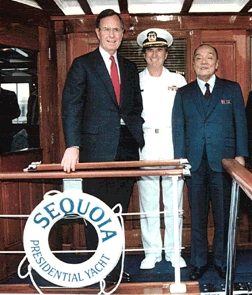 Photo from: www.harbour-square.com
John Trumpy Sr. came to America in 1902 from Berlin, Germany, where he had trained to be a naval architect. He acquired employment at the New York Shipbuilding Co., and 6 years of service later, was hired as a yacht designer at the Mathis Yacht Building Co. This would mark the real beginning of the Trumpy boat. By 1917, John Trumpy Sr. had produced more than 47 yachts for Mathis. By 1939, he had become president of the Mathis Yacht Building Co. and soon after brought his son onboard, John Trumpy Jr. Together they would build another 300 yachts under the new banner of Trumpy & Sons Inc.
Though John Trumpy Sr. would pass away at the age of 84, and his son John Trumpy Jr. would eventually see the auctioning and thus end of his company in 1974, The Trumpy boat and its legend will always live on. Featuring the finest craftsmanship in each vessel, laden with exquisite amenities, the Trumpy boat demanded perfection at all stages of the build. The skills handed down from elders to the younger builders assured the success of Trumpy boats, and kept them always being hand-crafted wooden vessels void of fiberglass.
Photo from: www.acbs.org